Customer Reviews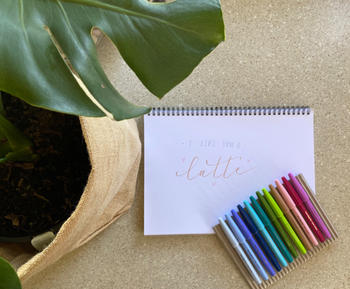 24/04/2020
Pastel Perfection
These colours are gorgeous! Pentel brush pens are by far my favourite to letter with! They glide so nicely along the paper and the pen head gives you just the right amount of slack to produce beautiful lettering styles. Highly recommend!
Justine M.

Australia
27/06/2020
Lovely Pentel brush pens
I'm a beginner with using brush pens so I had to get used to using these pens but it didn't take me long. The colours are lovely and the pens were easy to use. I would recommend them!
Cara-Lynn M.

Australia
06/05/2020
Beautiful colours!!
Quick delivery and beautiful packaging with elegant calligraphy of my name on the box :) The colour of these pens are so beautiful! I have purchased the original colour long time ago and I love these pens from the beginning! Thank you so much!
Oi L.

Australia
30/04/2020
Gorgeous pens!
Gorgeous pens! Nice and juicy!
Sarah G.

Australia
24/04/2020
Pentel Brush pens
Amazing colours and beautiful pens!
Alison C.

Australia