Customer Reviews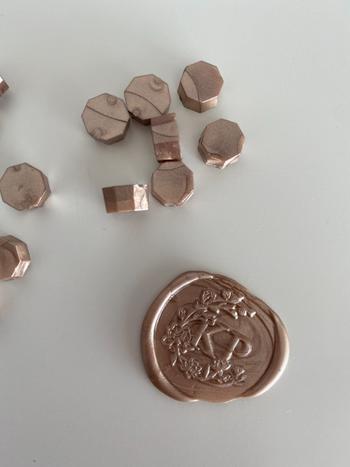 03/12/2020
EXQUISITE
I just got into wax sealing a couple months ago and these granules have been such a joy to work with! I prefer golds that are muted/cooler so this was the perfect shade if you're not too into warm yellow golds. I highly recommend it!
Kyla P.

Australia
18/11/2020
Love it!
My 3 colour of wax beads were absolutely beautiful and so delicately wrapped and presented.. and even got a litte tester of mixed wax beads to try.. the box and wax pallets were so pretty and I highly recommend the colours "Antique Rose"... "Frist Blue" and "Champagne " colours
Cynthia B.

Australia
07/07/2021
Custom initials kit
Gorgeous colours, took a few attempts to get the hang of it, looks beautiful
Anonymous

Australia
02/05/2021
Gorgeous colour and great quality wax
I've been returning to purchase Fiona's site each time I've needed wax or supplies - I know I can trust that her products will be of excellent quality. She's also quick at responding to questions and making the transaction a quick and easy process! I'll see you soon for my next order, Fiona! :-)
Virginia G.

Australia
29/04/2021
Wax Beads
I received the most gorgeously wrapped personalised package of items I think I've ever received just like a present. Haven't used champagne wax beads yet although they were my favourite colour. I used the black and white pearl ones combined for 60th wedding anniversary invites for my Mum and Dad and I'm not good at doing wax seals, in fact this was first attempt but I'm pretty pleased with how they turned out I needed to not heat the wax as much as I was at first, and then they became a lot better. Totally recommend.
Rachelle G.

Australia